---
Sail - kayak trips to Lake Powell Utah photo's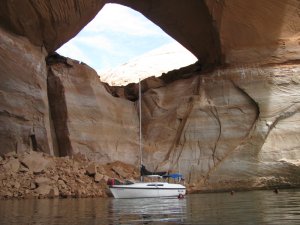 Powell Trip 2007 - canyons near Bullfrog
Powell Trip 2008 Bullfrog to the Escalante River
Powell Trip 2009 Bullfrog to Rainbow Bridge then up the San Juan river
Powell Trip 2010 Bullfrog to Good Hope Bay and Hite
For the past few years, we have towed a trailerable 26 foot sailboat from Denver to Lake Powell and spent about five days each trip exploring different sections of the lake. The sailboat is a 1990 Macgregor "26S" (sailboat version with 8 hp outboard).
Each trip, we did over 100 miles of exploring on the lake. The sailboat speed motoring is a "blistering" 6 mph and this seems to be a nice pleasant speed to take in the mile after mile of just spectacular canyon views. In general, we spent each night at a different spot on our journey and towed kayaks which were used to explore side canyons. We also spent a LOT of time in the low 80's F water.
Sailing at Lake Powell? Because of the steep canyons, Lake Powell is not a great place to sail. However, its certainly a pleasant place to motor sail. In 2008, the bimini (i.e., shade over the cockpit area) on the old Macgregor was modified so that both the main and the jib could be flown with the bimini up. We were generally on some sort of journey on any given day and in some cases, the canyon would be oriented for reasonable sailing. However, at the next bend, the canyon may be oriented for direct headwind - but no problem - the motor is running. . Every once in a while, you can also hook up with a very cool situation where the upper air flow is cross wise to the canyon and as the upper flow reaches the lee side the canyon, some of the wind goes straight down and then opposite to the upper flow when the wind reaches the water. So you can sail right next to the canyon wall with a nice breeze appearing to come pretty much straight out of the canyon wall.
Other Lake Powell Links
SOAZ paddlers club - North end trip report
SOAZ paddlers club - San Juan River trip report
Venture Club (San Diego Ca) Lake Powell picture albums